Recycle your wayz
Transform your wayz into a new pair of outsoles.
At some point you can no longer repair your sneakers but you don't want to throw them away. Every year, 22 billion pairs of shoes are thrown away. On average, it takes between 30-40 years for just one pair to decompose. By recycling your sneakers, you can help reduce the amount of waste in landfills and the impact on the environment.
Check our collection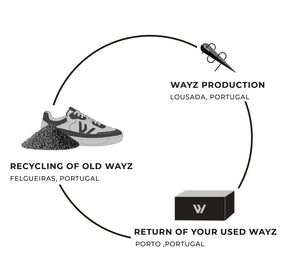 HOW CAN I DO IT?
If your sneakers are still in proper condition but you don't want to use them anymore we will donate it to someone who needs it.
Otherwise we will recycle your shoes for you sending them to our outsole supplier, Bolflex, that will transform them into new outsoles. We will pick it up for you and will offer a 15€ discount on your next order. Please write to us at hello@wayzforlife.com or call us at +351 914398268 (chamada para rede móvel nacional).