Clean your wayz
Welcome to our sneaker guide
How can you enjoy your great pair of Wayz while also keeping them as clean as the day you bought them? The answer is easy, regular maintenance and proper cleaning.
Dirty Sneakers become less durable over time
Important to know!
- Do not wait too long before cleaning your sneakers. Dirt and mud can dry out your shoes material and degrade the stitching and seams.
- Sneakers can harbour bacteria and other germs, especially if they are not cleaned regularly.
- Cleaning and conditioning can help prevent damage, keep your Wayz looking their best and extend their lifetime.
- Never wash your Wayz on a washing machine.
How to clean your Wayz
leather or suede require proper cleaning and conditioning to maintain their performance and quality. Suede leather parts will darken when wet. These will lighten as they dry.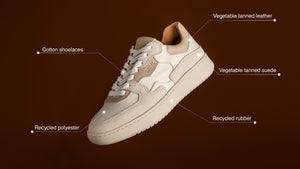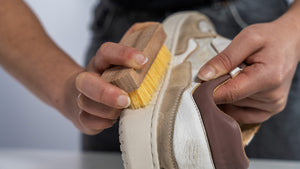 1 - START WITH THE OUTSOLE
Use a brush to remove dust from the outsoles. Then clean it with tepid water and a soft cloth or a brush. You can also use a sneaker cleaning solution.
2 - Clean the Upper
Before you start, remove the shoelaces. Pour a small amount of the cleaning solution on the brush or humid cloth. A few drops is enough to clean. You can also use tepid water or mix the cleaning solution with water. Wash the shoelaces with water and soap or bleach (for white laces).
3 - GENTLY SCRUB THE SNEAKER UPPER
The solution will create a foam as you scrub your sneakers to lift dirt, marks and grime. If possible, clean each material separately - suede leather, recycled polyester and aniline leather. Suede leather should only be cleaned with water if it is too dirty. Otherwise just brush to remove dust and light stains.
4 - WIPE OFF THE FOAM FROM THE SNEAKER and let dry
Use a microfibre cloth and leave to dry. For suede parts, let them dry completely (air dry or use a hairdryer) and gently brush it with a suede brush to turn it as soft and velvety as it was before. Put back the shoelaces.