Ethically Made Shoes
LASTING AND ETHICAL SNEAKERS WITH A TIMELESS AND AUTHENTIC DESIGN
Wayz's sneakers are ethically and transparently created with eco-friendly & recycled materials, locally sourced and produced in Porto, Portugal, and made to last in order to be part of conscious consumers' life and memories.
As producers and consumers we have an immense power through the products we make and demand we create. We need to be conscious about this power and act, producing and consuming responsibly, to fight mass consumption, waste and human exploitation.
BE CONSCIOUS, BUY LESS, CHOOSE WELL.
Environmental Responsibility
Eco-friendly materials
Local Sourcing
Local Production
Transparency
Ethical factories
Quality materials
Fair prices
Social Responsibility
Carbon Neutral Brand
28 Tonnes of CO2 emissions offseted
Certified by the United Nations
Local Sourcing and Production
We design, source and produce locally. All the shoe components are sourced and production takes place within a 70 kms radius in Porto, Portugal.
Being close to our producers and suppliers is a big advantage because we can visit them often and build lasting relationships, work hand-in-hand, test new designs, materials and improve the quality of our sneakers.
Besides, it drastically reduces the ecological footprint of our products because we don't need to make every shoe component travel the world several times, before our sneakers get to your feet.
WHO MAKES YOUR SHOES?
To ensure the highest quality of our sneakers we have carefully chosen personally, every supplier that we work with.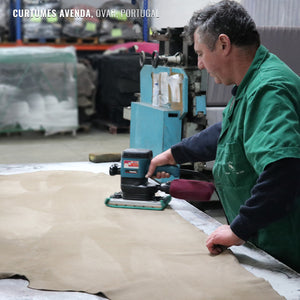 Our partners are family owned businesses, with decades of experience and great know-how in shoemaking, where passionate shoe artisans are paid fairly, there are good working conditions and labour laws are fully respected.
Fair Prices and the Best Value for Money
The final price is the result of our business model - we work with the least intermediaries, we have a local and simple supply chain and flexible cost structure that enables us to make high-quality, long lasting sneakers and sell at fair prices, making it accessible to more and more people.
Handcrafted with the least impact
Wayz life cycle analysis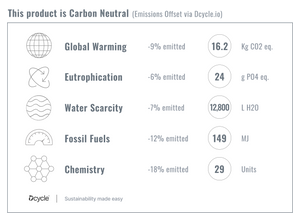 In cooperation with Dcycle.io, we made a life cycle analysis of our vegetable tanned leather collection to calculate the environmental footprint of each sneaker.
Each pair emits 16,2 kg of CO2, which is a reduction of 1,6kgs of CO2 (-10%) when compared to fast fashion sneakers.